Where are The Rocks and how do we get there?
Where is The Rocks Walking Tours' office?
Where do the Daily Tours depart from & finish?
What do I wear?
What happens if it rains?
How strenuous is the tour?
Would the tour be suitable for wheelchairs/ prams?
What language are the tours conducted in?

If your query has not been answered by the above FAQ's please Contact Us

The Rocks village is located at the northern end of Sydney's CBD (Central Business District) and is easily accessible by all modes of transportation.
How Do We Get There?
Here is some helpful information so as to assist you in locating our Office and the departure point for our Daily Tours:
By Foot:
The best idea would be to make you way to George Street, which runs north-south the distance of the City of Sydney and is the best most direct approach into the area.
Once in The Rocks, the first intersection you will come across is George and Argyle Streets, turn right into Argyle staying on the
right hand side where you will come across Harrington Street and a pedestrian crossing that will deliver you to the entrance of
Clocktower Square. Our office can be found on the ground floor inside the centre on your right
By Public Transport:
If you are concerned about the possible walking distance then you may like to consider catching a Public Bus, either # 431 which comes from Glebe down George Street to The Rocks or # 433 which comes from Balmain down George Street to The Rocks. Most bus driver should be happy to assist in letting you know when you should alight from the bus once in The Rocks, if you are unsure.
The Rocks area is well serviced by all modes of Public Transport (buses, ferries and trains) with Circular Quay only a leisurely 10 minute stroll to our offices.
For further information as to the best mode of transport from where you are travelling and its schedule please contact our Public Transport Infoline by phone on 131 500 or www.131500.info
By Private Vehicle:
Within The Rocks area all on street parking is metered, so if you were planning a day in The Rocks and intend coming by private vehicle it may be worthwhile investigating the parking stations in the area. The closest car park to our office is located in the Clocktower Building at 55 Harrington Street, The Rocks and is operated by Wilson Parking. Please access their website for the location, current rates and hours of operation.

Where is The Rocks Walking Tours office?
Where do the Daily Tours depart from & finish?
Our Daily Tours depart from & finish at The Rocks Walking Tours' Office, handily located in the heart of The Rocks at Shop 4a – Clocktower Square, Cnr Argyle & Harrington Sts, The Rocks.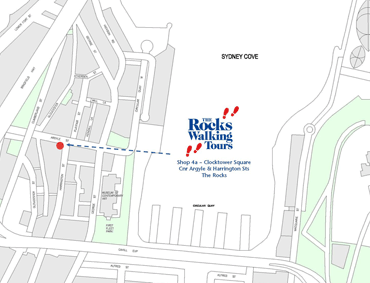 So as to ensure you have an enjoyable experience on our tour it always pays to be prepared, so we suggest wearing comfy shoes, bring a bottle of water, and pack all weather gear appropriate to the day as in an umbrella/ raincoat or hat/ sunscreen.

Our tours are conducted in all weather; rain or shine.
For your comfort, umbrellas are provided for use whilst on the tour if the day becomes inclement.

Our tours are conducted at a relaxed and easy pace, with consideration given to any participant's special needs.
The distance covered is approximately two kilometres, and this leisurely stroll pauses often to take in many of the significant sites and to recount interesting facts about the area.
As it is a heritage area, we do encounter a few flights of stairs (please refer below regarding Wheelchair & Pram Access) and some uneven pathways. If you have any concerns regarding your ability to undertake our tour due to medical reasons or your level of fitness, please inform our guide prior the tour's departure so we can ascertain whether this activity would be suitable.

Would the tour be suitable for wheelchairs/ prams?
Tours are conducted with a slightly modified route so as to be wheelchair/ pram friendly; we kindly ask if we can be made aware of this at the time of booking or, if possible, prior to the tour's departure.
Please click on this link for information regarding Wheelchair & Pram Access within The Rocks.

What language are the tours conducted in?
All our tours are conducted in English; but interpreters accompanying non-English speaking visitors are welcome to join our tour so as to translate.